Let's face it, Summers are getting brutal year after year. Dehydration, Stomach ailments are the most common problems one faces. Other than staying hydrated, there are certain food or ingredients that you can include in your diet during summers to help you stay energized and healthy.
Sattu, an Indian Superfood is an ingredient you must include in summers as part of your diet.
So, today's recipe is a healthy breakfast recipe using Sattu Flour or Aata. A delicious and wholesome Sattu Vegetable Pancake. Protein packed and filling breakfast for the entire family.
Resembling a thick Chilla or Uttapam, these pancakes are veggie loaded. Couple of servings of these are quite filling. You might also want to try Oats Chilla, Green Moong Beans Onion Uttapam and Kollu (Horsegram) Idli for a power packed protein enriched breakfast.
Sattu, earns the title of "Poor Man's Protein" because it is economical and has high protein content. If you are looking for a good vegetarian source of protein, grab a pack of Sattu from your nearest supermarket!
Sattu Ka Namkeen Sharbat is a summer friendly beverage known to have cooling properties and widely popular in North India especially in Bihar and Jharkhand.
It is made by mixing water with Sattu flour, salt and onions. An instant energy source, it prevents dehydration and associated weakness from sun stroke etc.
You must be wondering what exactly is Sattu? Some people feel Sattu and besan are same. In fact, they are not.
Difference between Sattu and Besan
Sattu, especially Chana Sattu, the one I have used in the recipe today, is made with Roasted Gram Flour. Besan is Raw Gram Flour.
Sattu is coarser in texture than Besan.
Both are Gluten Free Flours.
Being a pure vegetarian, I make it a point to cook dishes with high protein and consume it atleast for two of our main meals i.e. Breakfast and Lunch.
These Vegetable Pancakes can not only be your breakfast but also your post workout snack too. Ideal after school snack for kids as well as it keeps you full and dinner can be light.
How I made these Vegetable Pancakes
I have combined Besan + Sattu + Rice Flour. Note that all 3 flours used are gluten free.
Rice Flour is added so that the pancakes are slightly crispy around the edges. It also makes the batter lighter and the pancakes less denser.
Why should pancakes be plain? The More Vegetables, the better. I have used steamed sweet corn and shimla mirch or capsicum along with finely chopped onions.
Seeds – I love adding seeds to pancakes, chilla etc. Flax Seeds and sesame seeds are most commonly available at home.
The Recipe is gluten free except hing or asafoetida that I have added which contains gluten. With Besan and Sattu, I never skip hing as it aids in digestion. You can choose to skip the ingredient.
Step by Step Sattu Vegetable Pancakes Recipe
In a bowl add the Sattu Flour, Besan, Rice Flour, Turmeric Powder, Kashmiri Red Chilli Powder, Sesame seeds, Flax Seeds and salt to taste along with a pinch of asafoetida or hing.
Finely chop the onions, Steamed corn and shimla mirch (capsicum).
Add the vegetables to the flour mix, add water and mix it into a thick batter consistency.
Now carefully place a spoonful of the thick pancake batter on the hot griddle, spread it evenly and pour oil on the sides to enable cooking.
Cook the pancakes on low to medium flame and allow the pancakes to cook. Sattu flour takes a while to cook and since the batter consistency is thick so it is ideal to keep the flame low, cover and cook for a few minutes.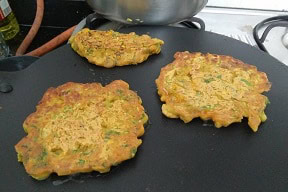 Serve it piping hot with an accompaniment of your choice.
Accompaniments for the Vegetable Pancakes
Sattu Vegetable Pancakes (Savoury Breakfast Recipe with Sattu)
Easy Indian Breakfast recipe using Chana Sattu Flour. Filling, Protein Packed, Healthy Sattu Vegetable Pancakes Recipe as post workout snack, brunch or breakfast. Kid Friendly and plant based vegetarian protein recipe ideal for summers.
Equipment
Non Stick Tava or Griddle to cook the pancakes
Ingredients
1

cup

Sattu Flour

1 cup is 250 ml measurement

1/2

cup

Besan or Chickpea Flour

1/4

cup

Rice Flour or Chawal ka Aata

3/4

cup

Steamed Corn Finely chopped

1/2

cup

Capsicum or Shimla Mirch finely chopped

1

nos.

Onions finely chopped

1

tbsp

Flax Seeds or Alsi

1 tbsp is 15 ml measurement

1

tsp

Sesame Seeds

1/2

tsp

Turmeric Powder

1/2

tsp

Red Chilli Powder

a pinch of asafoetida or hing

Finely chopped Coriander leaves as required

Salt to taste

Oil as required to cook the pancakes
Instructions
In a bowl, combine all the flours together. Mix well.

Add the finely chopped vegetables, onions, flax seeds, sesame seeds, turmeric powder and red chilli powder.

Now add asafoetida, salt to taste and mix everything together.

Add finely chopped coriander leaves to this mixture and pour some water.

The batter consistency should be thick enough for pancakes.

Heat a non-stick pan, add few drops of oil and grease it with a kitchen paper or slice of potato / onion.

Now carefully place a spoonful of the thick pancake batter on the hot griddle, spread it evenly and pour oil on the sides to enable cooking.

Ensure the gas flame is low to medium as Sattu takes some time to cook.

Once the pancakes have cooked, flip and add some oil, allow it cook on the other side for sometime.

Serve hot with coriander chutney and/or tomato ketchup.
Notes
This is an extremely filling breakfast and a couple of pancakes keeps you full until lunch.
A great way to feed kids vegetables and protein in the form of Sattu – Grate carrots, add steamed beans and / or mushrooms , or any other vegetable of your kids choice.
The pancakes take a while to cook and ensure you cook them over low to medium flame to avoid burning of the pancakes at the bottom.
Do give us a shout out or tag us when you post a recipe on any of our social media handles – INSTAGRAM, TWITTER, FACEBOOK PAGE AND PINTEREST.
You can also subscribe to our website to receive all the delicious recipes in your mail box.
Would be really happy to receive your feedback.
Thank you for visiting
Vidya Narayan