What is life without some spice? Agree? Well for me, certainly holds true. When we talk about spices, I am immediately drawn towards the Chettinad cuisine from Southern part of India. Chettinad cuisine is known for its spicy food. By spicy, I mean the cuisine uses whole spices, especially black pepper and chillies to flavour the food. While you wont see overtly red looking gravies or curries, but you can definitely sense the heat. The cuisine is known for its blend of spices, coconut in various forms – grated and used in wet masala, added in poriyals and as coconut milk to mellow the heat.
So, the recipe in discussion today is the Chettinad Mixed Vegetable Curry. This Vegan curry is a sinfully delicious vegetable curry that makes your otherwise mundane Mondays absolutely delightful.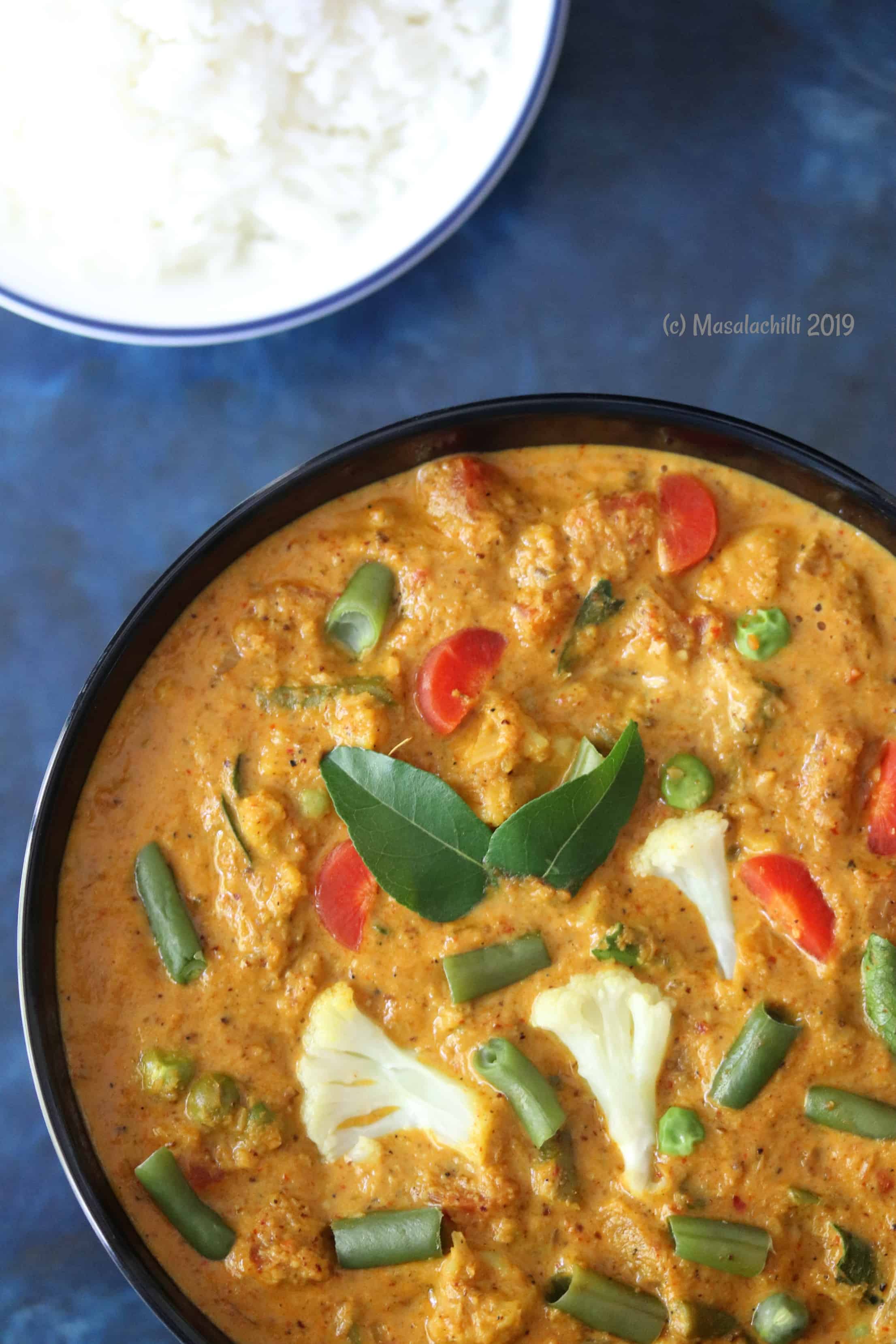 The Chettinad Mixed Vegetable curry is a mixture of assorted spices, an aromatic curry base of cashews and coconut milk. It is an ideal accompaniment for South Indian Dosa, Adai or Mixed Lentil Dosas, Appams and even Rotis, Plain Parathas or Steamed Rice, as we love it at home. The Mixed Vegetable curry is gluten free, vegetarian, vegan, plant based food that uses no flours for thickening etc. While it sounds similar to the Kerala Mixed Vegetable Stew, it is quite unique in terms of the spices, especially the Chettinad ground coconut masala.
In Chettinad cuisine, unlike popular belief, not all recipes are non-vegetarian. It has an equally delectable amount of vegetarian fare too. One should not miss the curries or gravies, breakfast recipes that the cuisine offers as they have all the key elements of the cuisine – heat, freshly ground coconut based masala and spice.
My tryst with the cuisine happened around 8 years ago on one of our yearly trips to Tirunelveli. The Chef at the hotel we stayed, specialized in Chettinad Cuisine and dished out some lovely vegetarian curries during our stay there. When I returned home, I tried to recreate the dish (with tips from the Chef), couple of times until I found a close match. I personally like to taste and recreate dishes at home. It is like my personal Masterchef Austalia Mystery Box Challenge, which i quite enjoy.
I hadn't made this curry in quite a long time now and over the weekend I happened to meet up my best friend after a long time and we had lunch together in a South Indian Restaurant. The menu had some Chettinad dishes and I chose a mixed vegetable curry while she chose the chicken variation. I was slightly unhappy with the extra dose of coconut milk which made it sweet. So I knew I had to come back home and cook my version of the recipe and share on the blog soon.
Taking this recipe to the #186Foodie Monday Blog Hop where the theme this week is "Plant based Milk" suggested by dear friend and blogger, Archana G Potdar who blogs at The Mad Scientist's Kitchen. Archana is an avid baker, has some lovely recipes on the blog pertaining to Maharahstrian, Goan cuisine etc. For the plant based milk theme, I have used Coconut Milk in the recipe to prepare this delectable Chettinad Mixed Vegetable Curry.
Let us now look at the recipe, step by step pictures of the process and make a piping hot bowl of this curry during the week. One tip here – Make extra portions of this curry and refrigerate it. Heat it the next day, the flavours are unbeatable. I do the same everytime I make this curry at home. So are you ready? Head over to the recipe below.
If you are looking for few more South Indian Recipes, do check out the Masala Paniyarams (a Chettinad recipe again), Avial (Kerala Style Mixed Veg Curry) which is gluten free, vegan or the Pineapple Pachadi which is a sweet and Sour yogurt based curry recipe from Kerala.
Recipe for Chettinad Mixed Vegetable Curry/Vegan Mixed Veg Curry
Prep Time 20 minutes
Cook Time 45 minutes
Serves 2 to 3 nos.
Ingredients
2 cups (200 ml) Mixed Vegetables (cauliflower, peas, beans, carrots)
Water to steam the vegetables
Salt to taste
Ingredients For the Curry base
1 large onion or 2 medium size onions finely chopped
2 small tomatoes (roughly chopped and pureed)
3 cloves of garlic sliced
1 tblsp of ginger grated
1/2 tsp Haldi powder or turmeric powder
1/2 tsp Red chilli powder
25 nos. Cashews soaked in 1/2 cup hot water
1 tblsp coconut oil
1/4 cup coconut milk
Few sprigs of curry leaves
Water as required for the curry consistency
Salt to taste
Ingredients For the Chettinad Masala Paste
5 nos. Green Cardamom or Elaichi
1 nos. Black cardamom or Badi Elaichi
1 inch Cinnamon stick or Dalchini
10 nos. of methi dana or fenugreek seeds
2 1/2 tsps of coriander seeds or dhania
3 cloves or Lavang / laung
1 tsp Jeera or cumin seeds
1 tsp fennel seeds or saunf
1 tsp black peppercorns
4 nos. Whole red chillies (pondy chillies used here)
1/2 cup freshly grated coconut
1 tsp coconut oil for roasting
Water as required to grind masalas into a thick paste
Method
(1) Rinse, Chop the vegetables mentioned above and keep aside.
(2) Prepare a steamer, steam the vegetables with salt as shown below in the picture for 15 minutes. Steaming helps retain the colour, maintain crunch in the vegetable as opposed to direct cooking. Not to mention, the nutrients are intact too.
(3) Now we prepare the Chettinad Masala paste.
(4) For the Masala paste, heat a pan or kadhai, add oil followed by all the ingredients except freshly grated coconut. Saute the whole spices until you get a lovely aroma and then add the grated coconut. Saute for few seconds until the coconut browns up a bit. Remove from pan and keep aside for cooling. Grind this into a thick paste with some water.
(5) Heat a pan or kadhai again and add 1 tblsp of coconut oil followed by finely chopped onions, garlic and ginger. Saute until the onions are translucent.
(6) Add the tomato puree, mix well. Now add haldi powder, red chilli powder and salt to taste.
(7) Cook the onion tomato gravy base until the raw smell goes off. Add the steamed vegetables and mix well.
(8) Make a paste of cashews with 1/2 cup water and keep aside.
(9) Once the vegetables have mixed with the onion and tomato gravy, add the Chettinad masala paste. Mix well. Add some water and adjust the consistency. Check for salt and add if required.
(10) Now add the cashew paste and some torn curry leaves to the curry. Mix well and you will notice the curry will thicken immediately. Adjust the consistency by adding some water. Also, check for salt again.
(11) Finally, add the coconut milk. Mix well and switch off the flame immediately.
(12) Serve piping hot with rice, rotis, dosai, adai etc.
Recipe Notes
I have used Pondy chillies not for the colour, but the heat. You can opt for kashmiri red chillies and you will get a deeper red colour of the gravy.
I have cooked the entire recipe in coconut oil since it is a South Indian curry recipe. You can use any neutral oil if you like.
The turmeric powder used here is home made and a tiny quantity helps. If using store bought, kindly add as required.
Adjust the quantity of red chilli powder to your taste and preferences.
Since it is a vegan recipe, I have not soaked cashews in warm milk nor used any milk for grinding into a paste / milk. I have soaked in hot water for 15 minutes and used warm water for grinding into a smooth paste.
The curry stays good in the refrigerator for couple of days. The very next day of cooking, the curry tastes even more delicious with all the spices seeped well.
Consistency of the curry depends on your preference. We like it on a thicker side to scoop with rotis or simply mix it with steamed rice and enjoy.
If you try this recipe at home, please give me a shout out / Tag Me on any of my social media handles.
Vidya Narayan