Hello Everyone! Today, I am sharing a recipe about the Most cooked Protein or Dish in an Indian Kitchen, The Dal. A Maharashtrian recipe called Methi Che Ambat Goad Varan which translates as "Sweet and Sour Dal with Fenugreek or Methi leaves".
While there are umpteen varieties of dal across different regions, this dal recipe is from the land I am born and brought up in – Maharashtra. The Ambat Goad Varan has been a personal favourite after the South Indian Paruppu sadam to me. The Methi Che Ambat Goad Varan is gluten free and vegan in nature (minus the ghee tempering). Loaded with protein and the goodness of methi greens, this is an extremely filling lunch or dinner option for the entire family.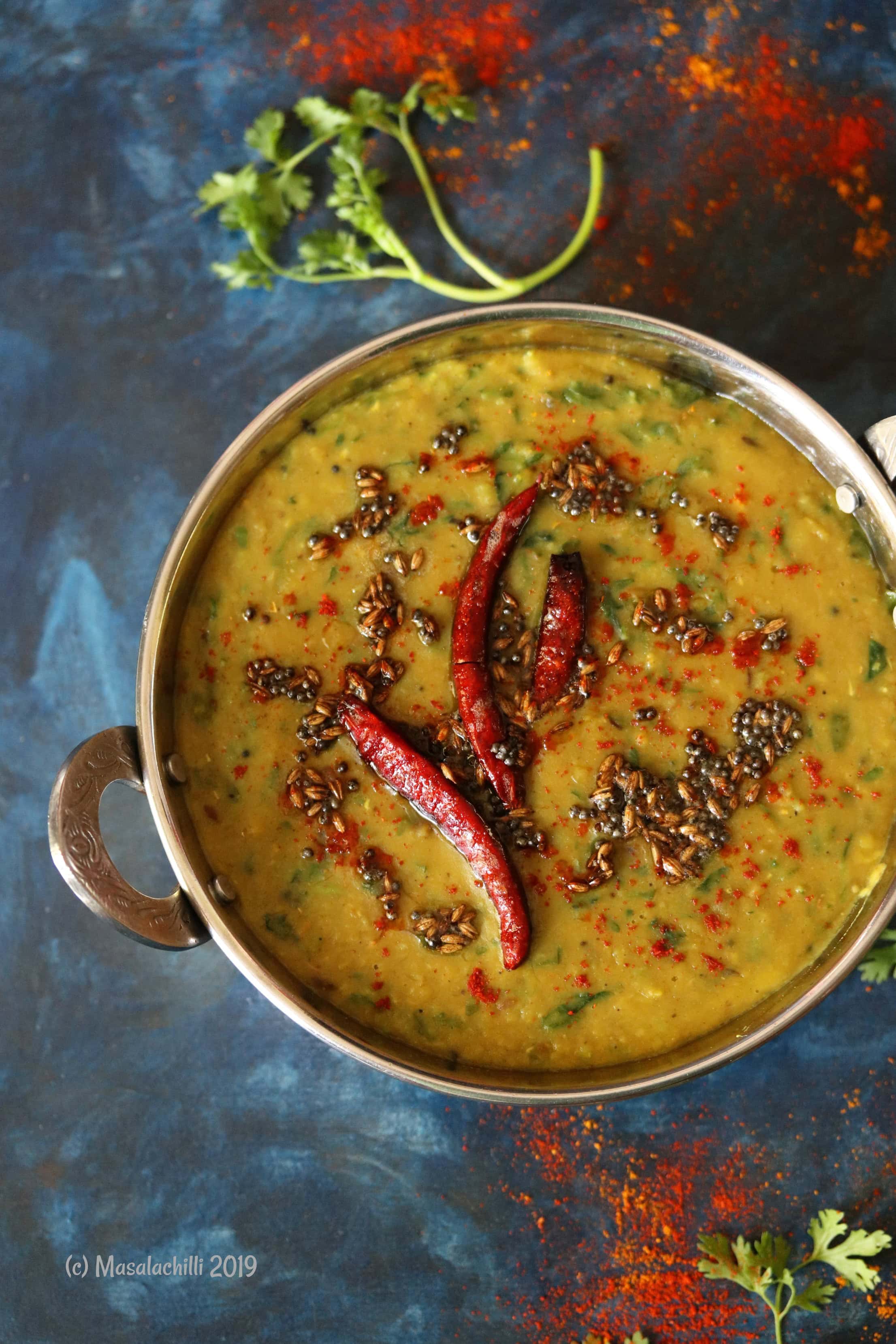 Ambat in Marathi means 'Sour' and Goad is 'Sweet'. So, the dal is a mixture of both elements, sweet and sour. The sweetness is rendered by jaggery or sugar, depending on the season. While the Ambat or sour element is covered by Kokam or Tamarind. The Dal used in the recipe is Toovar Dal, Tur dal or Arhar Dal. which is every household staple dal, extremely delicious amongst all the other dal varieties and used extensively in Indian cooking.
The Methi Che Ambat Goad Varan needs very little time and effort, making it a perfect meal on a weekday or on weekends. I have been blogging about a lot of comfort foods lately as Narayan is on a travel spree and having to eat a lot of untimely meals, different time zones makes your body kind of surrender to simple meals more than anything else.
The Ambat Goad Varan needs Steamed Rice (short grain preferably) a good dollop of sajuk tup or ghee. A side of vegetables like a simple potato stir fry and some papad, achaar or pickle simply adds on to the comfort element. A short siesta post this meal would be the grand finale to a lovely meal and a must, for a sound body and mind!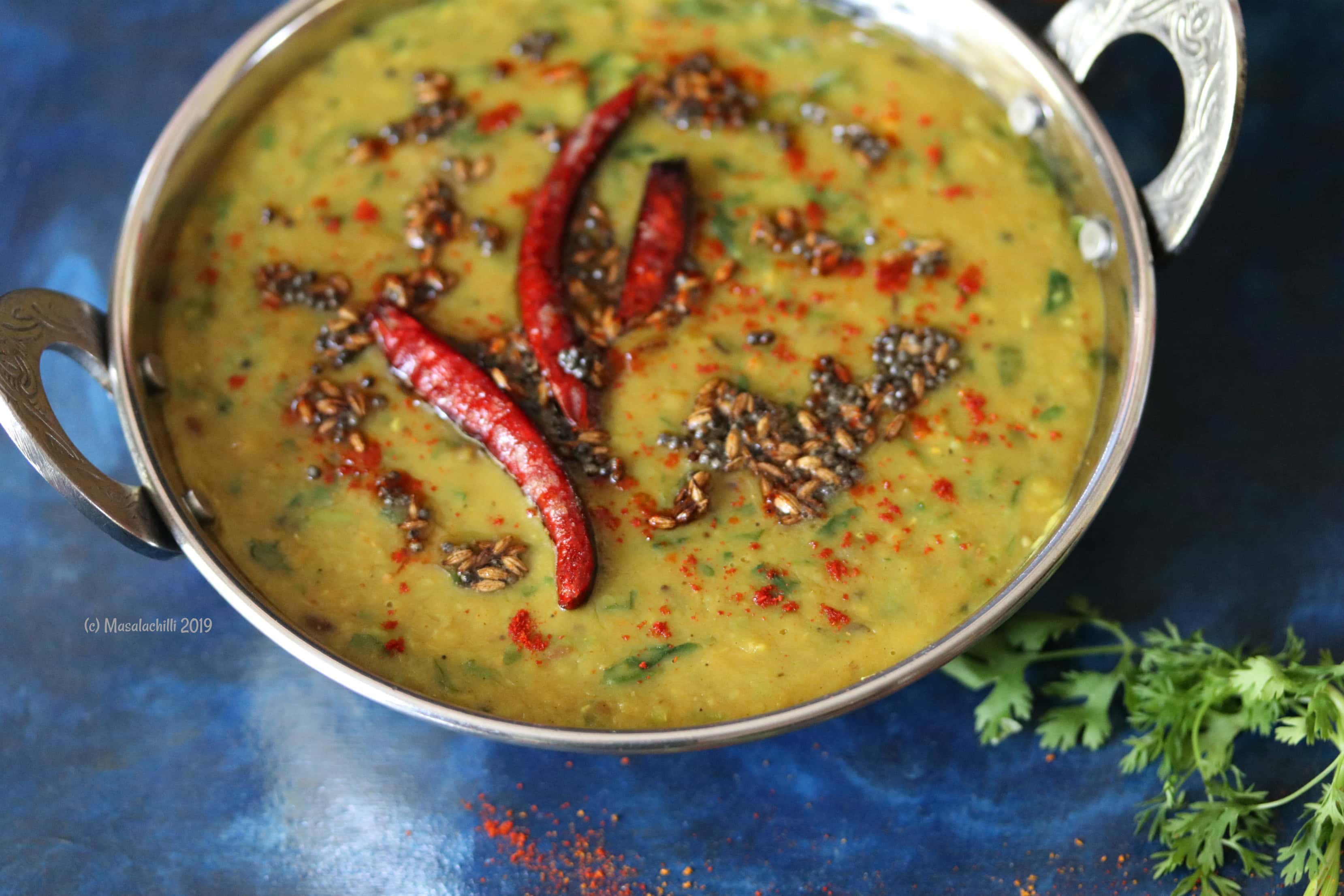 Sounds comforting enough? Want to try this lipsmacking Dal recipe that I adore? Check out the recipe, step by step pics and make a nice piping bowl of dal for the entire family.
Taking this recipe for the A to Z challenge this month wherein we choose to cook with key ingredients Alphabetically. This month it was time for Alphabet 'F' and I chose my key ingredient 'Fenugreek' to cook this comfort food dal recipe called Methi Che Ambat Goad Varan / Maharashtrian Fenugreek Dal
The A to Z Challenge was initiated by Jolly Makkar and this is my 6th post for the theme. Recipes in the challenge you might be interested and can try out at home are Roasted Almond and Choco Chip Icecream, Broccoli Corn Balls, Khamang Kakdi, Sugar Free Dates Rose Pista Ladoos, Vangyache Kaap or Pan roasted eggplants.
Looking for some vegetarian sides or sabzis to go along with this dal? Check out the Vangi Batatyachi Bhaji (brinjal potato curry) or a simple Vangyache Kaap (pan fried eggplants) all washed down with Mattha or Buttermilk.
If you want to try some recipes with methi or fenugreek leaves – Do try the Methi Thalipeeth, Samudri Methi Chi Bhaji (methi microgreens), Chana Methi Sabzi and Methi Missi Roti.
Recipe of Methi Che Ambat Goad Varan
Prep time 15 mins (doesn't include soaking time)
Cook Time 30 mins
Serves 3
1 cup is 250 ml measurement
Ingredients
1 cup Finely chopped fresh fenugreek leaves or methi leaves
1 cup Tuvar Dal / Arhar Dal / Split pigeon peas
1.5 cups Water to pressure cook the dal + water for soaking etc
1/2 tsp Turmeric powder
2 long green chillies
9 cloves of garlic
1 tblsp of ginger roughly chopped
1/2 tsp jeera or cumin seeds
1/2 tsp mustard seeds
a generous pinch of asafoetida or hing
1 tblsp tamarind paste
2 tsps goda masala
1 tblsp palm jaggery
1 tblsp oil
Salt to taste
For the final tempering
1 tsp ghee
1/4 tsp mustard seeds
1/4 tsp jeera or cumin seeds
2-3 whole red chillies
Method
(1) Wash and soak the toor dal for 20 minutes.
(2) Drain and add 1.5 cups of water, turmeric powder and pressure cook until soft and mushy.
(3) Whisk the dal well and keep aside.
(4) Make a coarse paste of green chillies, garlic and ginger.
(5) Heat a pan, add 1 tblsp oil and mustard seeds. Once they crackle add jeera or cumin seeds.
(6) Add the green chilli, garlic and ginger paste, saute well until the raw smell goes off.
(7) Now add the finely chopped methi leaves. Saute and sweat the methi well until it loses all the moisture.
(8) Add the cooked dal along with turmeric paste, goda masala, salt to taste and palm jaggery. Mix well. Add some water to adjust consistency and allow it to cook for few minutes.
(9) Switch off the flame and prepare for tempering.
(10) Add the tempering over the dal (with ingredients under tempering give above) and serve piping hot with steamed rice and a curry of your choice.
Recipe Notes
The tuvar dal that I have used is organic.
I have used Himalayan Pink Salt. You can opt for any variety of your choice.
You can add some onions and tomatoes too but we prefer this simple. In case you want to add them, saute along with the garlic chilli ginger paste.
Whisk the dal well as varan is smooth in texture and shouldn't have thick chunks of dal.
I have used Palm Jaggery or Karupatti Vellam in Tamil. You can opt for sugar (adjust the quantity in comparison with jaggery) or normal jaggery too.
If you try this recipe at home, please give me a shout out / Tag Me on any of my social media handles.
Vidya Narayan