Beginning the New Year 2019 cold winter morning in Mumbai with a most popular Indian Breakfast called Parathas or Flatbreads. Keeping the seasonal produce in mind, I opted for the most delicious and filling Palak Parathas with Hara Lahsun (Green Garlic).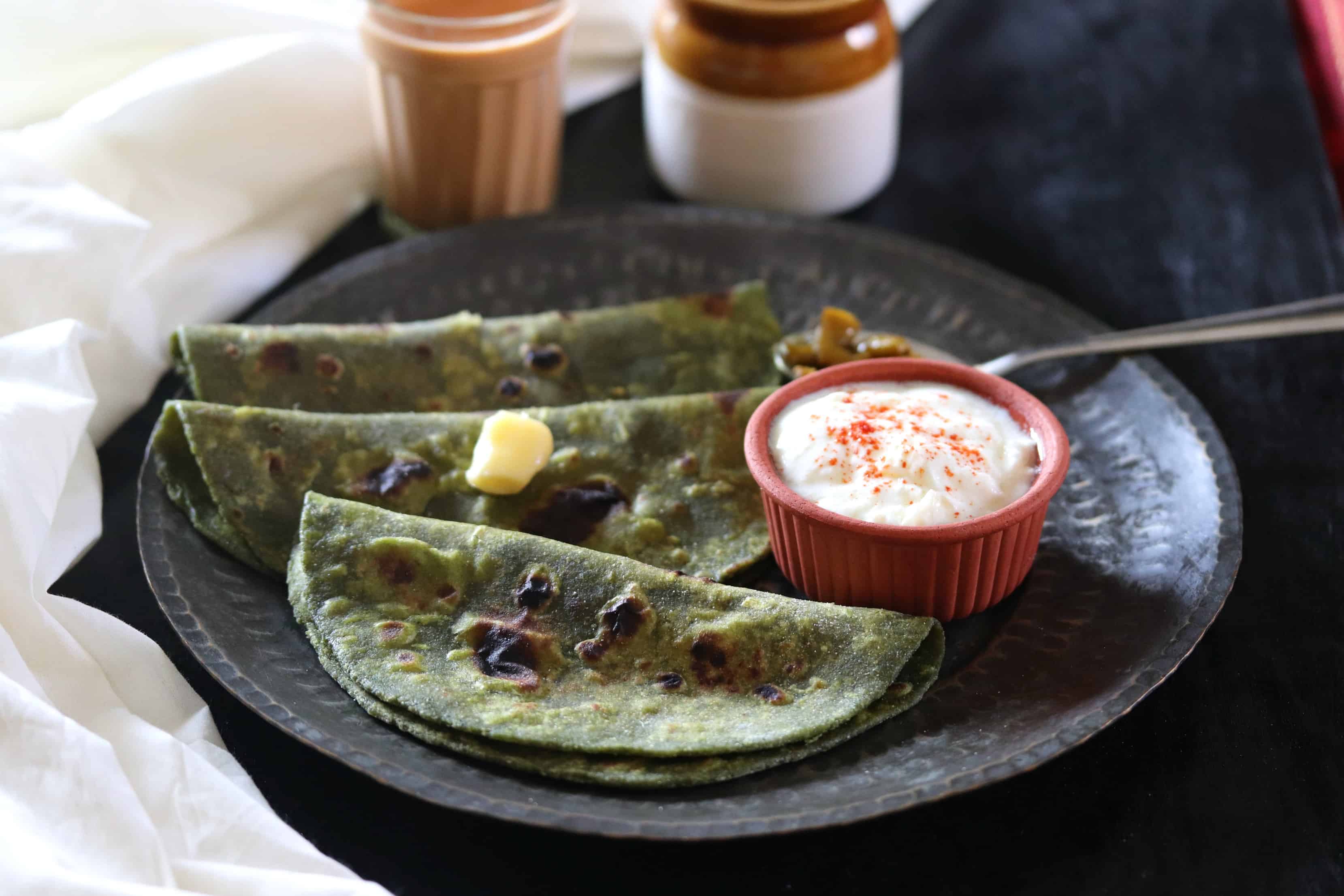 Parathas or the Indian Flatbreads are made either plain with ghee or clarified butter OR with a stuffing of vegetables like radish, potatoes, cauliflower, broccoli, peas etc. They are extremely filling with a side of curd and / or seasonal home made pickles. During winters, it is the most preferred breakfast as the weather makes you hungry and the parathas slathered with butter is your ultimate breakfast goal!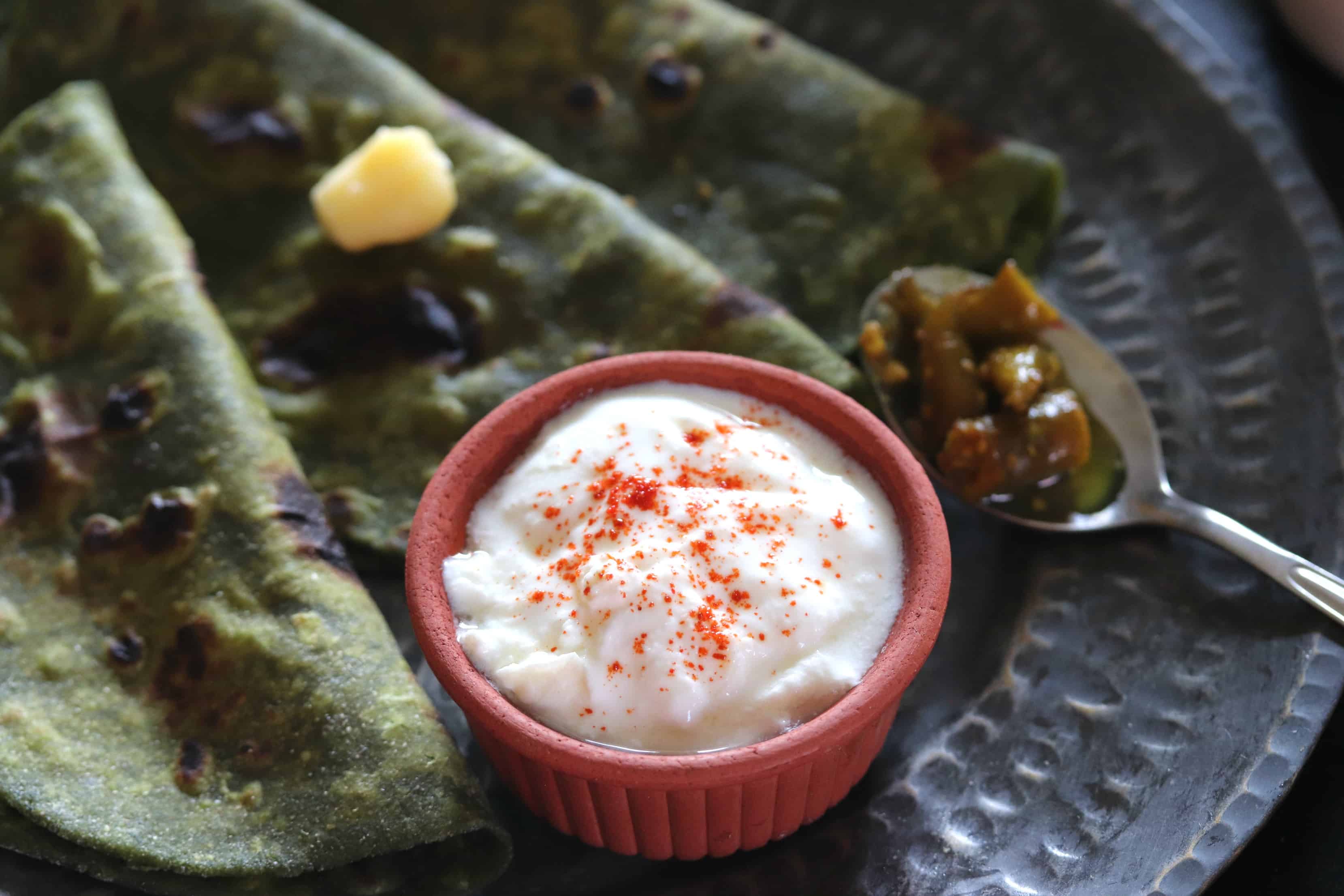 Parathas are a great way to encourage kids to eat their vegetables. Mothers can sneak the mashed, cooked vegetables inside the wheat flour dough and be satisfied with the fact that the kid has had his/her share of veggies for the day. With kids, health, taste and visual appearance of the food matters the most. So while they would cringe eating palak ki sabzi, they might jump with joy looking at the Palak Hare Lahsun Ka Paratha or Spinach and Green Garlic Paratha.
How to Retain the green colour of Palak or Spinach?
One of the most common problem with palak is retaining its vibrant green colour post cooking.
The best way to do that is to blanch or cook the spinach in hot water for few minutes, shock them in ice cold water or ice cubes immediately.
Grind into Puree in a mixer grinder and use in making dishes like Palak Paneer or Palak Corn.
You can store the palak puree in refrigerator for couple of days (don't add salt) and it can be added to dosas, idli batter etc too for kids tiffin box in the morning.
The Palak Hare Lahsun Ka Paratha or Spinach and Green Garlic Parathas are made with Whole Wheat flour, Spinach or palak Puree, chopped and ground green garlic, green chillies ground and some salt to taste.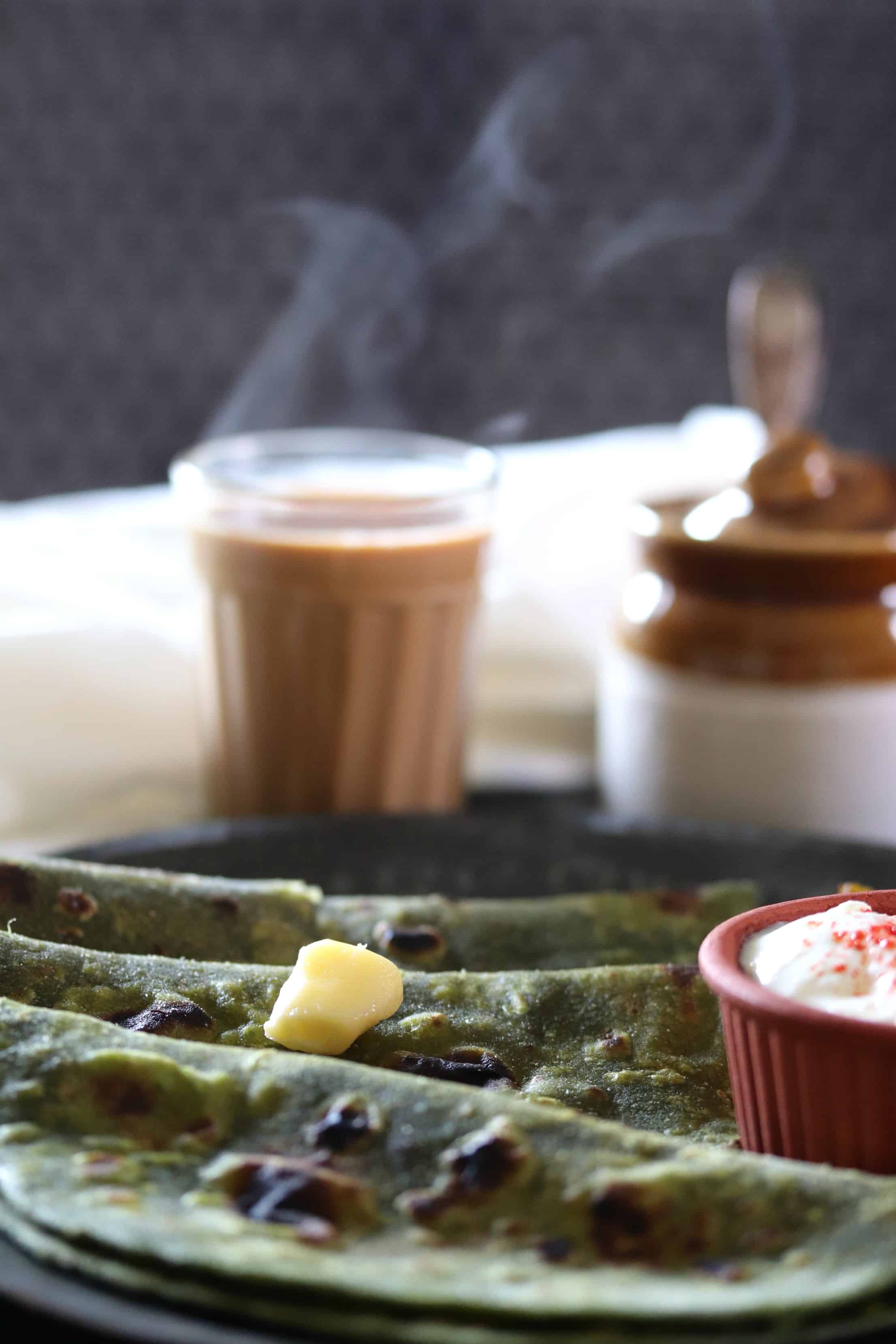 A Tip – I have not used any water for kneading the dough. The Spinach puree is sufficient enough to knead the dough making it all the more healthy and filling.
When it comes to Paratha varieties, Mooli Parathas are yet another popular favourite during winters. We at home also like the Ajwain Dal Mixed Dal Parathas, Safed Matar Ka Paratha too as part of our breakfast which is protein loaded and diabetic friendly too. Also great for kids tiffin box and lunch at work.
Winter season means abundant supply of leafy greens in the market and hence I decided to incorporate the greens in flatbreads or parathas too for breakfast. If you like palak or spinach, you can check out the Bhutte aur Palak ki Sabzi (Corn Palak), the Takatli Palak Chi Bhaji which is a Maharashtrian style Sabzi and Mor Keerai which is Spinach cooked in coconut and buttermilk gravy from South India.
The Palak parathas can be eaten as it is with a cup of chai or tea or dunked in cool curd with a side of spicy home made green chilli pickle, like how my husband prefers.
I am sure with the handy tips and easy step by step recipe below, making a batch of delicious Palak and hara lahsun ka parathas would be an easy task.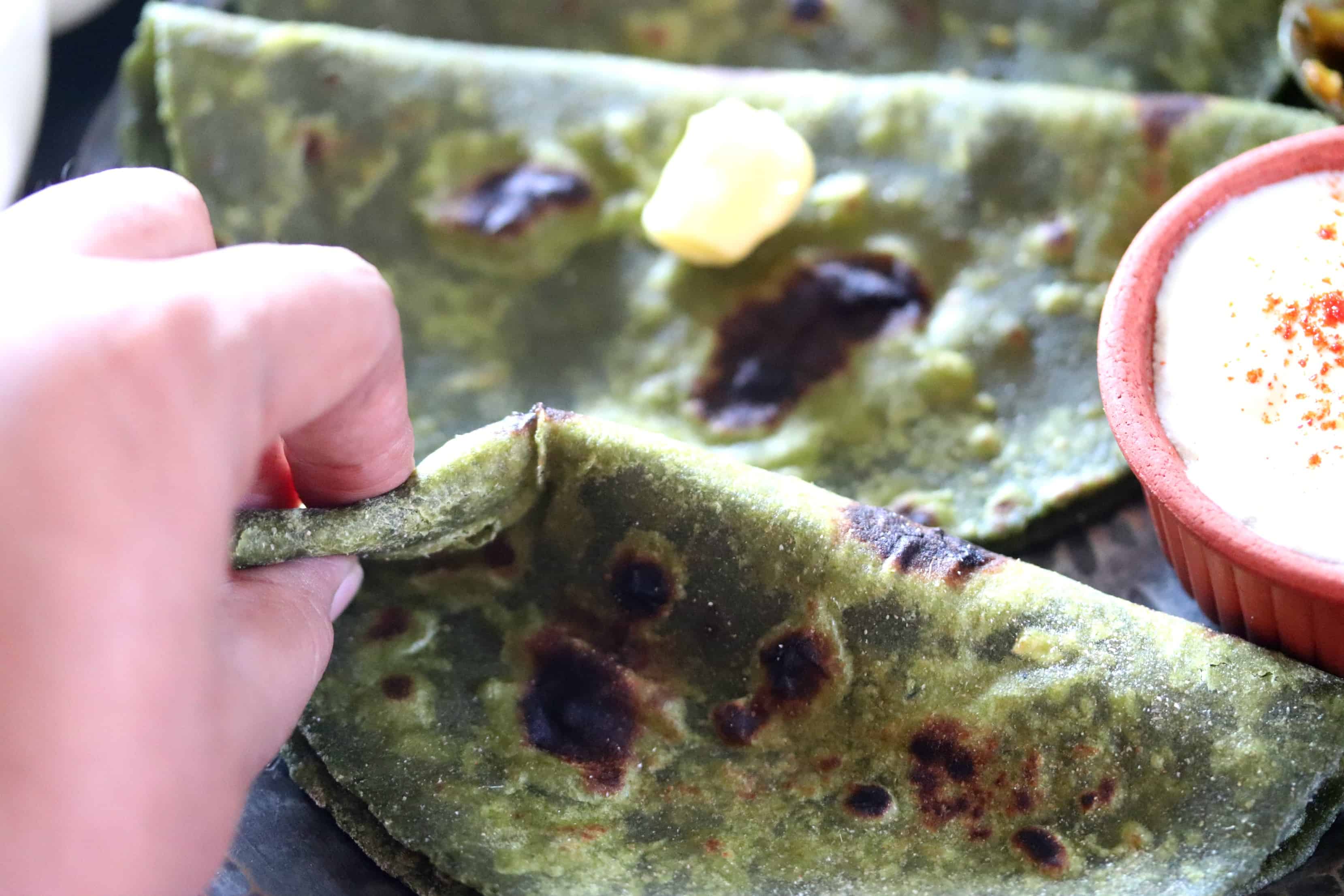 Enjoy it with desi cow ghee or salted butter, a cup of dahi sprinked with red chilli powder, a side of pickle and you will be guaranteed a productive and energetic day! Good food clearly does that to you!
Recipe for Palak Hare Lahsun Ka Paratha / Spinach Green Garlic Paratha with step by step pics
Prep Time (includes kneading) 30 to 40 mins
Cook Time 20 mins
(The prep time includes making spinach puree, kneading but doesn't include 20 mins of dough rest)
Ingredients
2 cups of Whole Wheat Flour
1 cup of Spinach Puree
1/4 cup of green garlic paste
1 tblsp green chillies paste
2 tsps of oil + ghee as required to cook the parathas
salt as required
Method
In a bowl, add the whole wheat flour and salt to taste. Mix the dry ingredients well.
Now add the green garlic and green chilli paste into the whole wheat flour.
Slowly add the spinach or palak puree into the flour and knead the dough.
Add a tsp of oil and knead further by adding the puree instead of water until it forms a paratha dough.
Divide the dough into equal parts and keep aside for 20 minute to rest before rolling the parathas.
After 20 minutes, roll out the parathas by dusting some flour and cook them on a hot griddle by applying ghee generously.
Serve piping hot with some more butter, pickle and curd.
Recipe Notes
I could make 10 parathas with the above recipe. The cup measurement is 200ml.
You can make the dough a day earlier and store it in the refrigerator for making the parathas early morning for kids and lunch box too.
I have not added water while pureeing the spinach. If you find the dough is not coming together while kneading and needs more moisture. Add more puree and / or water. I prefer the puree and usually keep a stock of it refrigerated to add to our dosa or idli batters too.
Cooking of green garlic is not required. Also, if you find the garlic a bit too much, reduce the quantity. If left with excess, add it to your dals as part of tadka and it will be absolutely flavourful.
If you try this at home, please give me a shout out / Tag Me on any of my social media handles.
Vidya Narayan