Dahi Bhallas (Non-fried)
I must confess here that this month's challenge was a bit confusing. Not in terms of variety of dishes as part of cuisine but because of its geographical boundaries and the food influences. I am talking about Haryana here.
The State of Haryana has been carved out of the former state of East Punjab and is situated in the Northern Part of India. Chandigarh is the capital so the region has a lot of Punjabi cuisine influences apart from the staple Haryanavi cuisine. The name of the City has been derived from the Sanskrit word – Hari means Lord Vishnu and Ayana means home so it translates as Abode of God. (Details on Haryana – Source Wikipedia)
A Village called Rakhigarhi in the Hisar District and Bhirrana in Fatehabad District are one of the worlds oldest ancient Indus Valley Civilization sites which dates over 9000 years. According to archeologists, the Rakhigarhi village could be the origin of Harappan Civilization.
Since 81% people of Haryana are vegetarian and the cuisine is based on fresh and wholesome foods like roti, saag, sabzis with great importance to milk and mik products, homemade ghee, lassi, kheer etc.
For the Shhhh Secretly Cooking Challenge this month, I was paired with a dear blogger friend, Archana Gunjikar Potdar. She blogs at TheMadScientistsKitchen. Please do check out her blog especially for the Goan cuisine, some Maharashtrian favourites and lovely bakes too. An extremely understanding partner for this month, who was as confused as I was, thankfully! We could easily discuss the cuisine and come up with solutions and finalized the ingredients accordingly. She gave me Curd and Urad Dal as the two secret ingredients. 
Since Haryana or its cuisine draws major influence from the Punjabi cuisine, majority of dishes are similar like Aate ka Halwa, Kadhi Pakoras, Rajma Chawal etc. The typical Haryanavi cuisine relies more on Bajra and wheat based rotis and vegetables like Ker Sangri and Green Cholia which are winter delights and since its summer in India, consumption of Bajra is not suitable as it creates a lot of heat and the seasonal winter produce has vanished from the market.
Haryanavis have great love for dairy products and enjoy their sweets too. Unfortunately, I am holding on from making sweets for the blog for some time as I am trying to lose some weight and when I was researching some more, I thought to myself, since its summers, I am sure they must be consuming a lot of dahi or curds as well and went on further to research about their street food love. They majorly love Gol Gappas with different varieties of pani or flavoured water and Chhole Bhature along with Dahi Bhalla. Since Haryanavis prefer sweet, I have made the Dahi / Curd / Yoghurt sweet by adding sugar. Now, before you judge me on the grounds – Why isn't she making sweets, When she can deep fry vadas?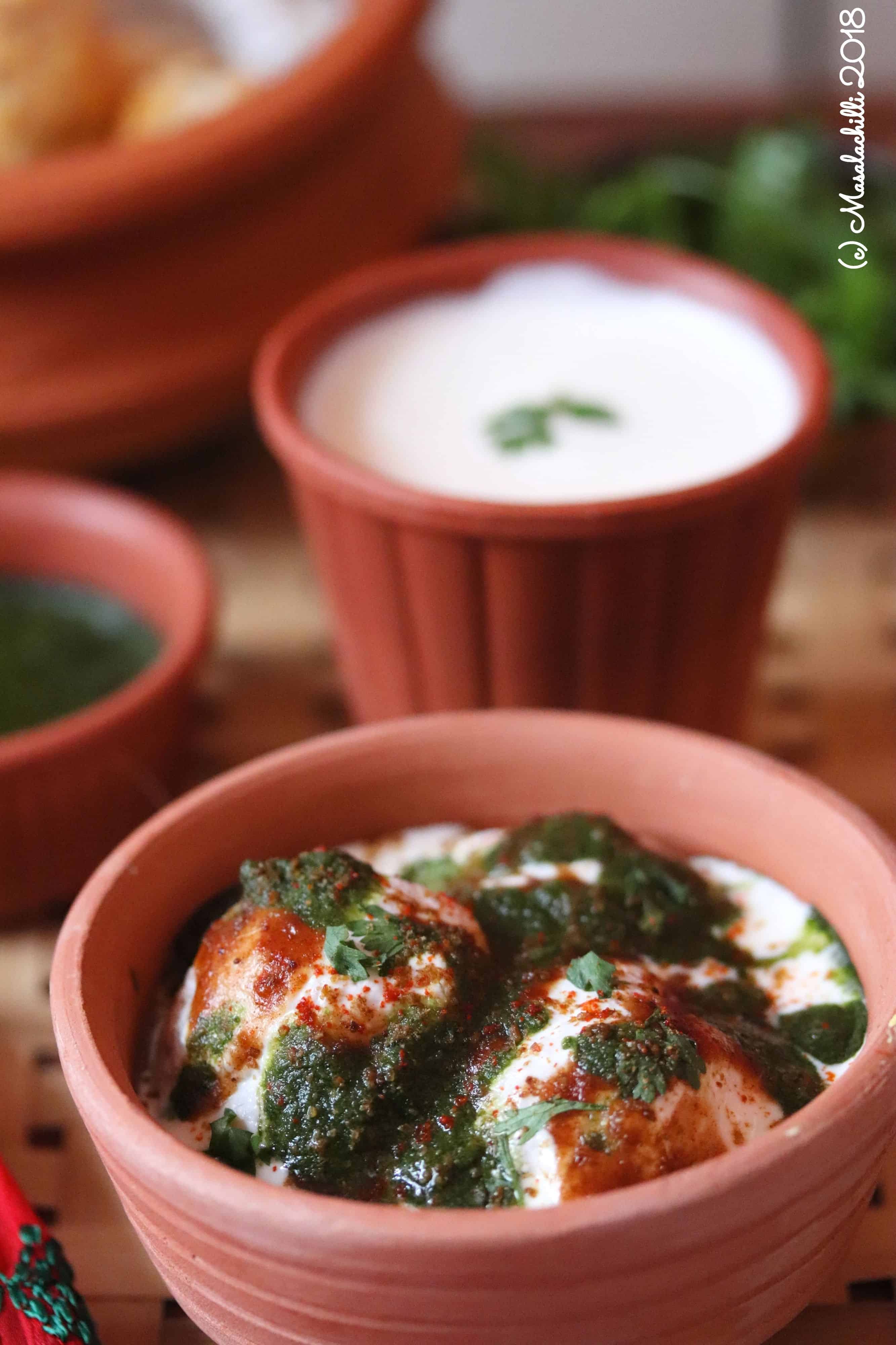 Bazinga!! These wadas are not deep fried. My appe pan once again comes to the rescue here. If you remember the last month's challenge on Gujarati Cuisine and the post on Dakor Na Gota where I turned a favourite deep fried farsan into slightly healthier one by cooking it in an appe pan with few drops of oil. In the same post, I had mentioned that I cook the Urad Dal vadas at home in the similar fashion since years when the craving for chaat emerges. Couple of vadas and I am sorted. Craving done and dusted! I don't like punishing ourselves, we love food, both of us and so we come up with solutions wherein we can enjoy little things.
Here is a little fact about me – I love Dahi Vadas! Ok, the word 'love' is an understatement. I don't enjoy eating at marriage buffets unless there is Dahi Vada Counter. For our marriage, the first thing I asked the Caterer to place on the menu was Dahi Vada. While I continue cooking food for my husband and the things he loves, when it comes for dahi vadas, the proportion of urad dal and the number of vadas etc are all taken into consideration based entirely on me. He enjoys few pieces but not a huge fan, unlike me.
Another Fun Fact – I could never make soft vadas prior to marriage and even struggled with it the first couple of months. Since I hate not excelling at things, every day for one week I tried making vadas at home and finally nailed it. Today – I make a batch of over 150 to 200 vadas for our society temple distribution and everyone who comes over at home, has to taste my super soft vadas. Moral of the story – When you love something, you will do anything for it. In my case, clearly – Dahi Vada Love! Lol!!
A Kulhad or Mud bowl of vadas that were made with a batter of urad dal and cumin, salt and laced with thick homemade curd that was whisked with sugar and salt followed by a generous dose of meetha chutney or sweet tamarind chutney, some home made coriander chutney, a big pinch of Roasted Jeera powder, some Kashmiri lal mirch, some chaat masala and finally some finely chopped hara dhania or green coriander leaves. This is what summers are meant to be.
With temperatures soaring and humidity levels breaking records every single day, a bowl of this non-fried Dahi Bhallas or Dahi Vadas are your only hope for survival! It is getting extremely difficult to rely on rotis and sabzis or even rice and hence treating yourself to a bowl of this wont do any harm and will keep you sane through summers.
Recipe for Dahi Bhallas (Non fried)
Serves 20 wadas
Ingredients For Making the Urad Dal Vadas
1 Cup Urad dal soaked for 2 hours

1 tsp Cumin Seeds
1/2 tsp of hing

1 tsp salt
Ingredients for the curd Mixture
4 cups of curd for atleast 20 wadas

2 tsps Sugar

½ tsp Salt

A pinch of Kashmiri Lal Mirch or Red chilli powder

A pinch of Chaat Masala

A big pinch of Roasted Jeera powder / cumin

4 – 5 tblsp of Meetha / Sweet Tamarind Chutney

2 Tblsp of Green Coriander Chutney
Method –
Wash and soak the Urad Dal for 2 hours.

Drain the water, grind it with only ½ cup of water until a thick smooth paste is formed.

Add salt, hing and cumin seeds. Mix and prepare the appe pan for making the wadas

Heat the appe pan and season it with a drop of oil.

Now add few drops of oil into the moulds and then slowly pour the thick batter.

Ensure the heat is on low flame.

Leave ¼ space on top to allow the vadas to rise while cooking.

Cover the appe pan with a lid.

Let it cook for a good 5 minutes before turning on the other side and add few drops of oil.

Once its cooked, remove and directly put them in a bowl of cool water.

Soak the vadas for 15 minutes, drain and prepare the curd mixture.
Assembling the Dahi Bhallas
Squeeze out the water from the wadas lightly and place them in a bowl for serving.

Pour ladles of cool curd that is whisked with sugar and salt.

Add some Meetha chutney, green coriander chutney

Sprinkle some Chaat Masala powder, Roasted Cumin Powder, Kashmiri Lal Mirch Powder

Finely chopped coriander leaves as garnish in the end and serve immediately.
Recipe Notes –
Planning to make this a day in advance for a brunch next day? – Just make the wadas in the appe pan and store them in a container in the refrigerator. The next day, just heat the vadas for 30 seconds in a Microwave so that they are warm when they are soaked in the water.
Soak the vadas in some water, squeeze excess water, place it a bowl, add curd and follow the rest of the procedure.
Always close the appe pan with lid while making vadas. It ensures even cooking, or more specific, cooking in the centre of the vadas which is always mushy or under cooked.
Cooking in appe pan requires a bit of patience. Once you develop a knack, sky is the limit for the varieties you can whip up using this. Less oil means less guilt.
Appe Pan vadas stays good in the refrigerator for 2 days.
You can add them to Rasam and turn them into Rasam vadas too. In that case, don't soak the vadas in water, as Rasam has enough liquid.

Simply enjoy them with fresh coconut chutney too along with a bowl of sambar.
Vidya Narayan